Cost Effective Website Solutions From Just £299
+ vat
ARE YOU TURNING YOUR BACK ON £££'S OF BUSINESS?
Have you reviewed your presence on the internet recently? Are you missing out on potential business because you do not have a website or is your current one letting you down? Are you paying too much for your current online solution? Is your website Fully Responsive so that it automatically fits any size screen? Is it in need of updating or redesign so you stand out? Is it EU Cookie Law compliant?

Your company image is what defines you and the Internet is the place to be found.

Every day, potential customers are looking for products and services online and if they cannot find you they will find your competitors. The Internet means that businesses can be found online, outside of the traditional market place area and normal trading hours, offering huge potential additional sales.

OMD Websites is a national company with local representation and we pride ourselves on the level of service we are able to offer. We provides hundreds of UK companies with their own websites so you can be confident that we are a company you can trust. We offer value for money, effective five page brochure websites that work for just £599 + vat; with design, creation, domain, hosting, search engine optimization and analytics all included in the price.

Perhaps five pages are too many for your business. We also offer a single page website for just £299 + vat; ideal for having that all important presence on the World Wide Web!

All our websites are Fully Responsive so are design to fit any size screen on any device. We do not use preformed templates but start from a blank canvass on every project designing each website around the clients' needs, existing marketing materials and logos.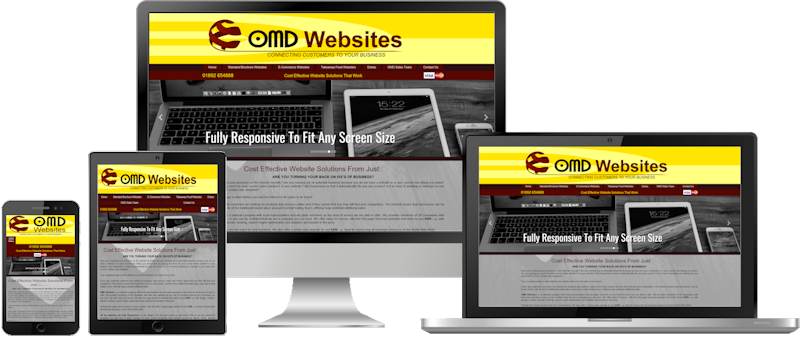 Fully Responsive Designs to Fit Any Size Screen
OMD

Websites - Clear, Honest Pricing

Unlike other web design companies we are completely open with the prices we charge for providing your company with an online solution. You can work out for yourself exactly what you will be charged without any pressure from a sales representative and decide before you even make contact with us whether it fits your budget. None of having to fill in a quote request form with the dread of being taken for what the web design company thinks it can get away with....how refreshingly different!!
Some of the benefits from a website created by
OMD

Websites

All prices shown exclude vat