Cost Effective Website Solutions From Just £375
+ vat
ARE YOU TURNING YOUR BACK ON £££'S OF BUSINESS?
Have you reviewed your online presence recently? Are you missing out on potential business because you do not have a website or your current one is letting you down? Is it in need of updating or a redesign so you stand out? Is it built to fit any screen size held in either landscape or portrait?

Your company image is what defines you and the Internet is the place to be found. A website is your shop window to the world and it should accurately represent you or your business in the most professional way possible.

Every day potential customers are looking for products and services online and if they cannot find you they will find your competitors. The Internet means that businesses can be found online, outside of the traditional market place area and normal trading hours; offering huge potential additional sales.

OMD Websites is a national company with local representation and we pride ourselves on the level of service we are able to offer. We provide hundreds of UK companies with websites so you can be confident that we are a company you can trust. We offer value for money, effective single page brochure websites that work for just £375 + vat; with design, creation, domain, email, hosting, SSL Certificate, search engine optimization and analytics all included in the price. Ideal for having that all important presence on the World Wide Web!

Perhaps you have a lot to say and a single page website is insufficient for your business. We also offer a five page website for just £649 + vat.

All our websites are Fully Responsive so are design to fit any size screen on any device. We do not use preformed templates but start from a blank canvass on every project designing each website around the clients' needs, existing marketing materials and logos.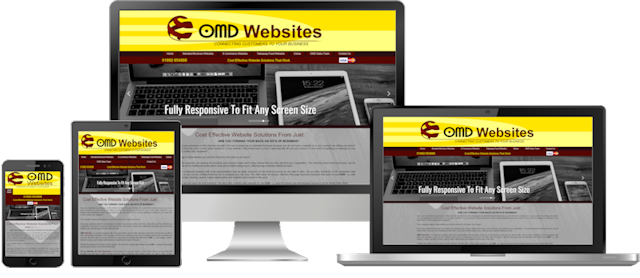 Fully Responsive Designs to Fit Any Size Screen
OMD

Websites - Clear, Honest Pricing

Unlike other web design companies we are completely open with the prices we charge for providing your company with an online solution. You can work out for yourself exactly what you will be charged without any pressure from a sales representative and decide before you even make contact with us whether it fits your budget. None of having to fill in a quote request form with the dread of being taken for what the web design company thinks it can get away with....how refreshingly different!!
Some of the benefits from a website created by
OMD

Websites
Fully Responsive Design:

Automatically adjusts to fit any size screen, on any device, using any operating system, on any browser.

F

oundation Framework:

To ensure our websites are fast, efficient and versatile we code all of them using Foundation Framework, the future standard for building websites.

B

espoke Design:

Some providers simply use a pre-designed template for the websites they 'design'. Here at

OMD

Websites we start from a blank canvass on every project, designing each website around the clients' needs, existing marketing materials and logos. Corporate identity is vital in business; consistency across all mediums is extremely important

Creation:

Once the style has been agreed site creation should not take long assuming all content is available to proceed. We pride ourselves in providing high quality websites quickly; no waiting weeks, or even months, for the end result when you entrust

OMD

Websites with your website.

Domain:

Provided with all our websites is a .co.uk domain appropriate to your business or organisation, we even take care of all renewal charges for you. If you already have a domain then it is a simple process to transfer it across to your new website. .com, .net and .biz can also be used but are subject to a small additional charge simply because they cost more to maintain.

Email:

Using an email associated with your domain is far more professional for your business or organisation than using a Hotmail, Googlemail or ISP provided email address. With each website we provide an email with a huge 2GB mailbox with a prefix of your choice.

SSL Security Certificate:

Provided as standard with all our websites is a SSL (Secure Sockets Layer) Certificate. Vital for all websites, SSL is the standard security technology for establishing an encrypted link between a web server and a browser ensuring that all data remains private and integral. When you visit a website with an SSL Certificate the website address has the prefix https:// rather than http:// and a 'padlock' icon appears in the browser bar where the domain is displayed. Originally developed to allow secure online payments and banking search engines like Google now rank websites with SSL higher than those without. Browsers display a warning when visiting a website that does not have SSL both in the addess bar and more prominently when filling in an unsecure contact form. Visitors are likely to avoid websites which are not secure.

Hosting:

Most website designers charge a monthly fee on top of your initial outlay for hosting a website; rest assured a whole years hosting is included in the price with

OMD

Websites.

Search Engine Optimisation (SEO):

Getting good results with search engines is often a priority for businesses but beware the website provider who guarantees first page results with all major search engines. No one can guarantee first page results unless you are prepared to enter into a paid for advertising campaign; often costing a small fortune each month. You will want results which are free; referred to as Organic. The only sure-fire way to guarantee a first page result organically is if you search specifically for the company or organisation name but this is only of any use if the person searching already knows of you. True SEO gives results when people search for services you provide in a given area. Although we will not make any guarantees we understand what the major search engines are looking for when it comes to gaining the best results and are usually very successful.

Analytics:

An understanding of the volume of traffic generated by your website, and how it is getting there, is often of importance to a business or organisation. We routinely monitor websites using Google Analytics, probably one of the most powerful online statistics packages. This can be shared with the client so that they can see the effectiveness of their website and how visitors are interacting with it.

Google My Business Page:

If you do not have one already we will create a Google My Business page for your business.
All prices shown exclude vat